I'm quite excited, the funk/metal crossover band Living Colour are touring again, and performing the complete Vivid album. Although it's 25 years since the album came out, it still sounds fresh today, and it's hard to overstate how influential that album was when it came out. They were true pioneers of the funk metal sound along with Faith No More and Red Hot Chilli Peppers. Even cooler, one of my heroes of the bass guitar, Doug Wimbish, is playing with LC on this tour. Although he didn't join LC until their third album "Stain" (another great album), Doug's playing has graced many classic albums, and his wild virtuoso playing is a real pleasure to behold! Doug is also a really nice guy, I recently had the opportunity of meeting him when he was demonstrating a new product at MacWorld recently – and I got to play with his bass.
He plays Spector basses – a brand I bassed ('scuse the pun) my own custom bass guitar on.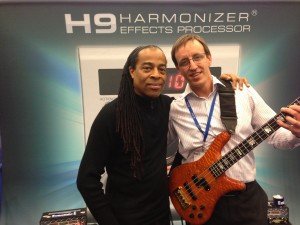 I'm going to be able to see them twice on this tour, the first time is tonight, so I'm looking forward to that. If you get the chance, check them out!